While most of our region's races for candidates and ballot measures were determined on election night, the outcomes of a select few important races weren't decided until the San Diego County Registrar of Voters completed the final count of provisional ballots on December 6. All in all, this year's general election proved to be a mixed bag as it related to REALTOR® Party priorities. SDAR endorsed 22 candidates and took positions on 3 ballot measures. The results are as follows:
State Legislature: 2 of 2
County of San Diego: 4 of 5
City of San Diego: 2 of 4
Surrounding Council/Mayor: 6 of 7
School Districts: 2 of 4
Ballot Measures: 2 of 3
A complete list of SDAR's announced endorsements can be found here. The following is a recap of our key races and ballot measures.
---
RENT CONTROL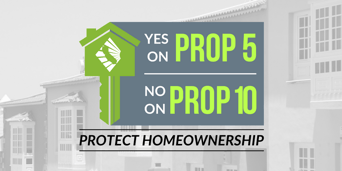 Rent control was defeated on both the state and local level. Yes, we have reason to celebrate, but only for a brief moment as this issue will not go away any time soon.
Proposition 10
For those of you who somehow avoided the bombardment of emails, text messages, caravan updates, etc., REALTORS® throughout the state were actively fighting Proposition 10. The measure would have eliminated certain restrictions on rent control, including important homeowner protections for single family homes and a provision that restricted rent control from being applied to newer residential complexes. Read more here. This was a tremendous concern for private property rights advocates and anyone hoping to address the housing supply crisis. Such a measure is expected to chase away much needed investments in new housing and invite blight into those regions with rent control. In other words, this proposition would only perpetuate our housing crisis rather than provide meaningful support to struggling families.
Measure W
Proposition 10 wasn't the only rent control related fight we dealt with this election season. But this other attempt to expand rent control may have slipped past you as it only appeared on the ballot in one city. Measure W, a local ballot measure in National City, aimed to apply rent control throughout the city. This would have been a first for the region. Fortunately, despite the fact the city is 68% renters, voters there ultimately decided to oppose the measure by a slim margin of 155 votes, just barely more than 1% of the vote.
Policymakers, homeowners and developers alike were watching the outcome of this local measure. The general concern is that once rent control obtains a foothold in this area, proponents will seek to spread the policy throughout the region. For a region that is only developing 50% of the housing need on an annual basis, such a measure could have devastating consequences to San Diego's housing supply.
---
PROPERTY TAX PORTABILITY
Proposition 5, the Property Tax Fairness Initiative, failed to overcome what was always an uphill battle that marked the first stage of a multi-year effort. Ultimately, the C.A.R. backed measure, which was inspired by SDAR's past President Bob Kevane's proposal from more than 10 years ago, failed by a vote of 40.2% to 59.8%.
C.A.R. released the following information about Proposition 5 after the election:
While our opponents were successful in stopping Proposition 5 this time, our resolve on this issue is firm, and we are committed to this effort for the long haul. As you know, we are pursuing a revised initiative for the November 2020 ballot. The new initiative for the 2020 ballot provides for property tax base portability, reforms intergenerational transfer laws, and addresses the true 'split roll' problem: corporations gaming the current property tax reassessment system. And, most significantly, it will raise money for schools and local governments.
Additionally, C.A.R. is still planning to pursue the issue through a legislative alternative in the state legislature to achieve its goals and reinforce our commitment to making property tax fairness a reality. Ideally, we can get the legislature to place the alternative on the March 2020 ballot so that we do not have to pursue the November 2020 initiative.
---
COUNTY AND CITY OF SAN DIEGO
The local races for County Board of Supervisor and the San Diego City Council were closely watched on election night. At the County, former Assemblyman Nathan Fletcher defeated former District Attorney Bonnie Dumanis by a vote of 67% to 33%. Mr. Fletcher was successful in taking a seat at what was a GOP dominated Board of Supervisors.
At the City of San Diego, District 2 (Zapf), 4 (Cole), 6 (Cate) and 8 (Open Seat) were all on the ballot this election season. Typically, incumbents are all but guaranteed to keep their seat. In fact, prior to November 6, an incumbent city council member hadn't lost reelection in 27 years. But this year is far from typical and not one, but two, councilmembers lost their re-election bids. This included City Council President Myrtle Cole (District 4) and City Councilmember Lori Zapf (District 2). With the election of Vivian Moreno to Council District 8, we will have three new faces on City Council this year. What's more, the Democrats have a 6-3 supermajority over republicans, meaning they have the ability to override a mayoral veto.
What does this mean for the real estate industry? The SDAR Government Affairs Team looks forward to working with the newly elected officials, along with our veteran lawmakers, at the City and County. We anticipate engaging with policymakers on a variety of issues in 2019, including climate action plans (and any associated point of sale mandate), sea level rise, housing development, rental regulations, homeownership opportunities, among others.
---
SUMMARY OF ENDORSED CANDIDATES:
Red – Indicates the candidate or measure was defeated.
| | |
| --- | --- |
| City of San Diego | City of Poway |
| Council District 2 - The Hon. Lorie Zapf | Mayor – The Hon. Steve Vaus |
| Council District 4 - The Hon. Myrtle Cole | |
| Council District 6 - The Hon. Chris Cate | City of San Marcos |
| Council District 8 – Vivian Moreno | Mayor - The Hon. Rebecca Jones |
| | |
| County of San Diego | City of Santee |
| District Attorney - The Hon. Summer Stephan* | Council District 1 – The Hon. Rob McNelis |
| Sheriff - The Hon. Bill Gore* | |
| Assessor / Recorder / Clerk - The Hon. Ernie Dronenburg* | School Districts |
| Supervisor District 4 - The Hon. Bonnie Dumanis | Poway Unified School District, Area B - Ginger Couvrette |
| Supervisor District 5 - The Hon. Jim Desmond | Poway Unified School District, Area C - The Hon. TJ Zane |
| | San Diego Unified School District B – Tom Keliinoi |
| City of Chula Vista | San Diego Unified School District C – Marcia Nordstrom |
| City Council District 1 - The Hon. John McCann | |
| | Ballot Initiatives |
| City of El Cajon | Proposition 5 - SUPPORT |
| Mayor – The Hon. Bill Wells | Proposition 10 - OPPOSE |
| | National City Measure W - OPPOSE |
| City of La Mesa | |
| Council (at large) – Guy McWhirter | |
| Council (at large) – Bill Baber | *Won outright in the primary |