I. New Laws & Industry Outlook
Did you miss the 2020 SDAR New Laws & Legislative Outlook Event? Once again, the annual New Laws event sold out with approximately 400 REALTORS® attending a four hour event dedicated to preparing our members to succeed in 2020. These individuals received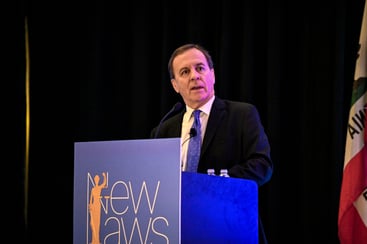 an update on the new laws from Gov Hutchinson of the California Association of REALTORS® and heard from expert speakers about some of the issues being debated at all levels of government that could impact the real estate industry.
"Our local REALTORS look forward each year to the 'New Laws' event. We are honored to provide value to our members and bring together some of the most respected experts in real estate who are shaping the future of the industry. Its these discussions that help prepare our members for the challenges and opportunities ahead in 2020." - Carla Farley, 2020 SDAR President
Get the Materials from the New Laws by selecting the below:
Gov Hutchinson, C.A.R. Assistant General Counsel, on New California Laws - View the Presentation
California Association of REALTORS® 2020 New Laws - Download Here
National Association of REALTORS® 2019 update and 2020 New Laws -

Download Here

New Laws 2020 Alan Nevin Economic update and forecast​ - Download Here


II. SDAR Endorsement Update
SDAR recently announced its endorsements for candidates and ballot initiatives appearing on your primary election ballot. Members are encouraged to join us in supporting our REALTOR® Party candidates and issues this election season! Candidates and ballot initiatives are reviewed by SDAR committee members who make recommendations to the SDAR Board of Directors. The positions in the following voter guide were approved by the Board. The absence of any candidates or ballot initiatives indicates that a position has not yet been taken in that race or on that issue.
Not yet registered to vote? It's not too late! Learn about Conditional Voter Registration by clicking here.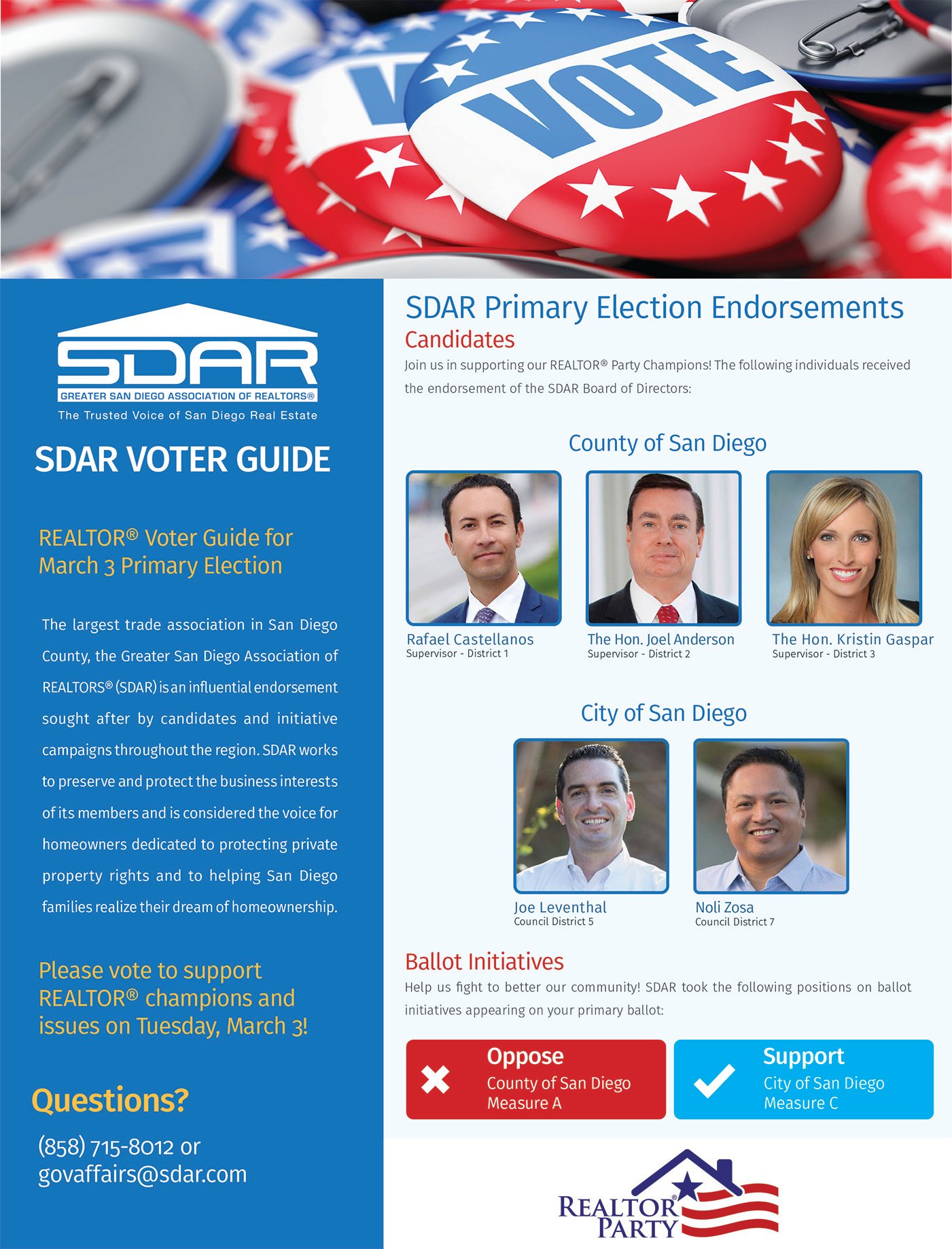 III. The Confusion Over Prop 13 on Your Ballot
Don't let the name fool you, this ballot initiative is NOT the Prop 13 measure that voters overwhelmingly approved in 1978 to lock in our low property tax rates and protect seniors. Instead, this measure would authorize a $15 billion school construction bond to be paid by taxpayers. What's worse, the exorbitant fees will disproportionately fall on homeowners in the form of increased property taxes!
Learn more about Prop 13 from Jon Coupal, President of the Howard Jarvis Taxpayer Association, Click Here.