New Rent Control and Just Cause Eviction Law Takes Effect January 1, 2020. Come Learn What You Need to Know To Prepare!
This is event is free and open to all real estate professionals and interested homeowners. If you are unable to attend, you may find information about AB 1482 here.
Expert Speakers Include: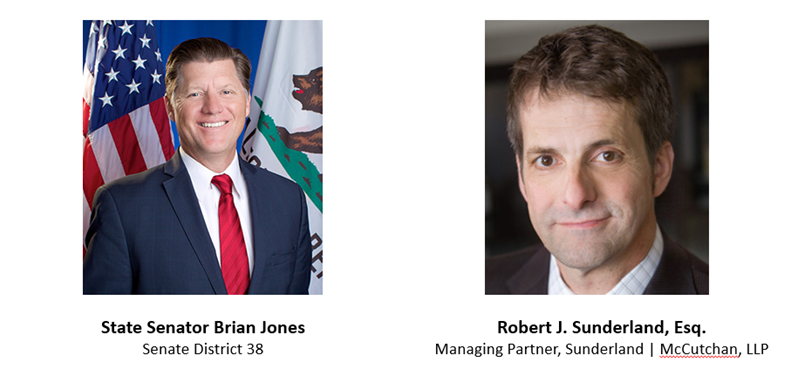 Avoid Litigation! What You Need To Know About AB 1482
Thursday, November 14, 2019 from 9:30 am – 11:00 am
Greater San Diego Association of REALTORS®
4845 Ronson Court, San Diego, CA 92111
On October 8, 2019 California Governor Gavin Newsom signed into law AB 1482, legislation to impose statewide rent caps and just cause eviction standards on certain residential properties. The new law takes effect on January 1, 2020 and could place landlords and property managers at risk of costly litigation for failing to comply. While REALTORS® led a successful campaign to exempt certain single family homes and condominiums, property owners and landlords are strongly encouraged to obtain legal guidance on how this new law could impact them and their properties.
Key Topics Regarding AB 1482 Include:
- Which properties are exempted?
- How much can I raise rent? How often?
- What is "Just Cause Eviction"
Additional information about AB 1482 can be found here.
---
About State Senator Brian Jones (SD-38)
Brian W. Jones was elected in 2018 to serve the people of California's 38th Senate district. He is Chair of the Senate Republican Caucus. Prior to serving in the Senate, Jones was a Santee City Council Member for eight years from 2001 to 2010 then again from 2017 to 2018. Jones was the representative for the 71st Assembly District from 2010 to 2016.
Jones grew up in the district and attended Santee Elementary, Cajon Park Middle School, and Santana High School. He continued his education at Grossmont College before earning a bachelor's degree in business administration at San Diego State University.
Some of the legislative priorities during his Assembly years were lowering taxes, improving the economic development for small businesses, supporting our Armed Forced and veterans, removing unnecessary red tape, and protecting the Second Amendment right. Jones' legislative achievements include the introduction and co-authorship of "Made in America" legislation, which makes it easier for manufacturers to do business in California, legislation to support the expanding craft beverage industry in California, and legislation allowing non-motorized vehicles such as scooters, bicycles, and wheelchairs in skate parks. He became well known for his annual 2nd Amendment Awareness event, which educated his constituents on the Second Amendment rights and related state legislation and gave attendees opportunities to learn how to control a firearm safely or improve their accuracy.
Jones' commitment to the quality of Californians' lives resulted in many awards including, California Rifle and Pistol Association Outstanding Leader (2016), the Civil Justice Association of California Civil Justice Leadership Award (2015), the California Society for Respiratory Care Legislator of the Year (2015), the California Chiropractor Association Chiropractic Champion Award (2014), Lakeside Chamber of Commerce Legislator of the Year (2014), and Tech America's "Tech Champion" (2012).
Jones is married to his wife of 27 years, Heather. They enjoy spending time with their three children, Christopher, Melina, and Matthew. The outdoors are a huge part of his and his family's life. He's an avid mountain biker and motorcycle rider and is a co-chair of the California Outdoor Sporting Caucus.
About Robert J. Sunderland, Esq.
Robert J. Sunderland is the Managing Partner of Sunderland | McCutchan, LLP. His practice focuses on transactional and litigation issues relating to real property concerns throughout the State of California.
Mr. Sunderland earned a B.S. in Economics from Pepperdine University. Prior to attending law school, Mr. Sunderland enjoyed a successful career as a General Contractor responsible for the construction of custom residential homes in the greater Los Angeles area. He has been a licensed General Contractor with an active license since 1990.
Mr. Sunderland attended Southwestern University School of Law earning a J.D. degree and has been licensed to practice law in California since 1997. Mr. Sunderland is admitted and qualified to practice in state and multiple federal districts in California courts.
Upon graduation from law school, Mr. Sunderland worked for an independent energy development corporation as an Executive Vice President and General Counsel in the San Francisco area. Mr. Sunderland was responsible for negotiating power sales contracts with foreign governments and overseeing of numerous U.S. Department of Energy projects.
Since transitioning from the corporate world in 1998 Mr. Sunderland has focused his legal work on the defense of Real Estate Brokers, Agents, General Contractors and business professionals throughout California. He has defended in excess of 2,000 Real Estate Licensees in Superior Court and is very involved in the provision of Risk Management services, specifically assisting numerous insurance carriers, Broker, Agents and Associations.
Mr. Sunderland has also served as an Expert Witness, advising in Developer liability and Construction Defect litigation. Given Mr. Sunderland's practical "hands on" experience with all construction sub-trades, he is recognized for his forensic skills and ability to quickly identify key defect issues which frequently arise in the real property context. Mr. Sunderland's expert scope ranges from forensic analysis to trial testimony.
As a former race car driver, world traveler, proud parent of three children and a Greyhound rescue, Mr. Sunderland brings a unique perspective from his diverse background and interests.